I'm not sure if this topic should be in this forum or perhaps the Other Martial Arts section. Mods, please feel free to move it to where it is most appropriate.
I have a number of (replica, ornamental) nihonto set up in a display in my living room. I was just wondering if there is any correct or incorrect way in which they should be displayed? For example, I've seen a few different methods such as: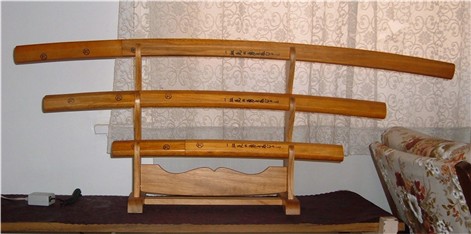 Katana
Wakizashi
Tanto
As well as the opposite
Tanto
Wakizashi
Katana
I've also seen variations in which way the the point of the blade faced, and also in where the cutting edge of the blade was facing up or down.
Does anyone here have any knowledge on which way these blades should be displayed?
This post has been edited by Joe Saunders: 19 April 2007 - 03:44 AM